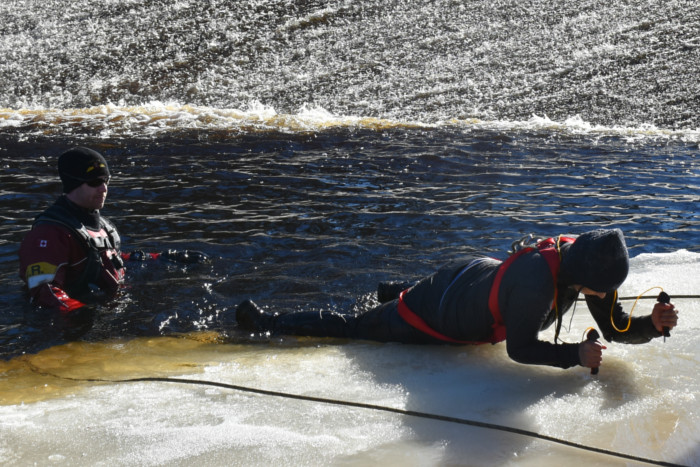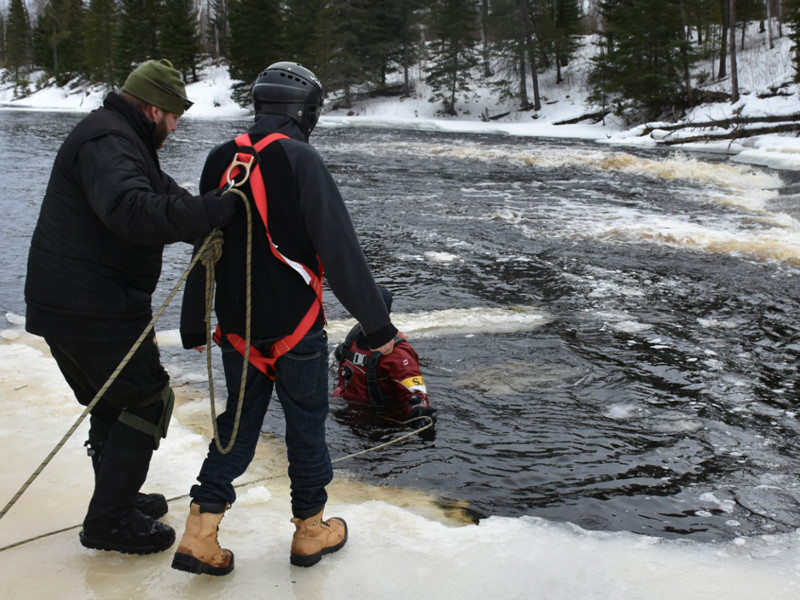 Know your reaction!
Being prepared makes the difference. 2 ½ km snowshoe walk thru scenic shield country that follows a meandering river into an area with waterfalls and a cabin with wood stove.
Practice in a safe environment with professionals.
We teach our students how to overcome an unexpected plunge into natures ice and water. Our ex-military instructors teach you the 1-10-1 principle and three different ways to pull yourself to safety with or without help.
If you are on the ice in winter this is a great course to prepare you for possible danger. The experience is topped off with warm bush tea and soup served by our training interns and stories by the fire.
Teaching points include (but not limited to):
Precautions
Initial response
Equipment
After action
Self rescue
Assisted rescue
Up to three water immersions
Watch the video on the left with ICSOS instructors on site. Participants learned how to deal with being emerged in cold water including using different techniques to get out of the water and onto ice.
Warning:  You may hear bursts of course language coming from participants!
Intended Audience
Search and Rescue teams, general public, outdoor enthusiasts, Snowmobilers, ATV riders, Hunters, Sport and Commercial fishermen, Hikers, Backcountry and Remote workers, Ice road travellers and workers
Duration 8 hours
Cost $300 per person + tax
Prerequisites Proper equipment and environmental clothing as per Kit list
Group rates available