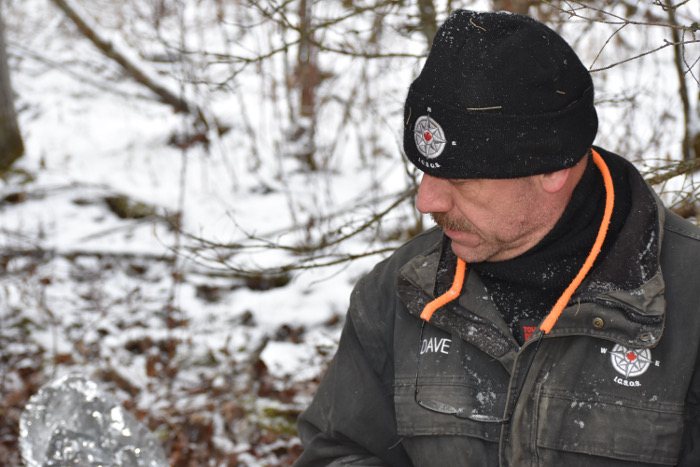 Dave MacDonald
President and Lead Survival Instructor
Personal History
Born  in southern Ontario
Childhood spent in the outdoors hunting, fishing and exploring the Bay of  Quinte
Member of the Army Cadets from the ages of 12 through 18
Member of Toronto Scottish Military Regiment at the age of 19
Currently residing in Lac Du Bonnet, Manitoba
Father of  two boys
Personal Hobbies
Hunting (archery, black powder and rifle) and fishing
Back country canoeing and camping
Hiking and mountain biking
Dog sledding
Scuba diving
K-9 Search and Rescue training for tracking, searching and urban disaster response
History
Became a full member of the Canadian Military as a Weapons Technician, land, at the age of 20
Served in Quebec City with the military for 6 years
Served in Nicosia Cyprus as a United Nations Peacekeeper for 6 months
Changed trades within the Canadian Military from a Weapons Technician to a Search and Rescue Technician (SARTech) in 1993
In 1993, served as a SARTech in Trenton, Ontario for 6 years with 424 Squadron (transport and rescue)
In 1999, served as a SARTech in Winnipeg, Manitoba for 6 years with 435 Squadron (transport, air to air refueling, and rescue)
In 2005, began instructing at the Canadian Forces School of Survival and Aero medical Training (CFSSAT) as a Survival Evasion Resistance and Escape (SERE) instructor
Retired from military 2010, after 25yrs of service.
Instruction Experience
3 years instructing with ICSOS Inc.
5 1/2 years basic and advanced survival instructor at CFSSAT
Guest instructor at NATO winter survival course in Spatin, Norway, 2006 and 2009
Guest survival  instructor for SAR Tech pre-selection course in Jarvis Lake, Alberta
Instructor for NATO aircrew winter survival course in Moose Jaw, Saskatchewan
Guest speaker for Manitoba Hydro's safety conference spring 2009
Numerous mobile teaching teams (MTT's) for air crew pre-deployment briefings prior to going over seas
Certifications
Military Search and Rescue Technician;
Spill Response Management;
Small Craft Vessel Operator;
Ground Search Manager;
HPMA(Human Performance in Military Aviation) program coordinator;
ACUC Open Water Diver;
NAUI  Advance and Recue Diver;
Bronze Medal, Bronze Cross, and National Lifeguard;
Wilderness first aid;
CPR level C;
A.E.D.;
Oxygen theory;
Manitoba Hunting Guide
Certified Master Dog Trainer.
Professional Courses, Skills and Errata
High and low  angle rope rescue;
Search and Rescue diver;
Parachutist (static line and freefall);
Jump Master (static line and freefall);
Survival Instructor;
Escape and Evasion Instructor;
Environmental Officer;
Helicopter underwater egress;;
Junior leaders course;
Arctic survival;
Advanced SERE;
Aero medical training;
Sea survival;
Land survival;
Ships diver;
Winter warfare crse;
Fixed wing multi engine experience;
Rotary wing experience;
CASARA spotter trng;
Rigging for rescue crse;
Mountain and avalanche training and experience;
Power point level 1 & 2 crse;
Building a risk -smart  organization crse;
Defusing hostility crse;
Leading diversity crse;
Customer service crse;
Managing projects for results crse;
Instructional techniques crse;
17 years ER,OR,Cor0ner, & ambulance experience in ON, AB ,BC, & MB;
Working on certificate in Adult and Continuing Education with the U of M.