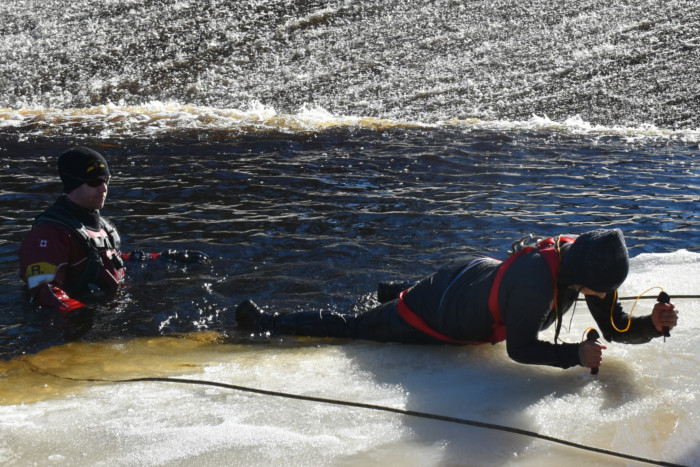 Know your reaction!
If you plan to (or might) be on the ice this winter, our Cold Water Immersion course will prepare you for possible - and all too deadly - danger of falling through.
If you're going to travel on the ice, you better be prepared to go through it! Knowing your reaction could make all the difference! Practice in a real world environment (it ain't a pool, and those are your regular ol' clothes) under safe and controlled conditions with professional instructors.
We teach our students how to overcome an unexpected plunge into natures ice and water. Our professional instructors teach you the 1-10-1 principle and get you to jump in 1, 2, 3 times and practice pulling yourself to safety different ways with or without help.
2 ½ km snowshoe walk thru scenic shield country that follows a meandering river into a secluded area with waterfalls, and a heated cabin  while enjoying warm bush tea and topped off with soup served with stories by the woodstove.
Syllabus (includes but not limited to):
Precautions & Prevention
Equipment for Survival
Cold Water Immersion!
Initial response (1-10-1 Principle)
Self-Rescue and assisted Ice Rescue
Next Steps
Prerequisites: None
Maximum Instructor to Participant Ratio: 1:4
Duration: 1 day
Cost: $300 + tax